Air Liquide Welding CERGY-PONTOISE, France

Air Liquide Welding group is a leading player in the development of welding and cutting technologies, offering the most complete range of related equipment, consumables and services on the market, through internationally well known brands as Oerlikon and SAF-FRO. With its Technical Centre for Welding Applications (CTAS), acknowledged as the largest private welding research centre in the world, Air Liquide Welding pursues continuous innovation, constantly striving to improve the performance, productivity, safety and comfort of operators.
Ceramic backing range for welding application
Flux Cored Wires for welding applications
MAG Welding installation
Oxyflame and Plasma cutting machines

unselect all/select all
You have 0 products selected
Complete offer in terms of gas, equipment and expertise
Send enquiry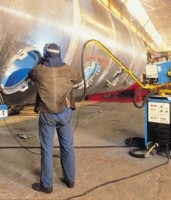 With more than 100 years experience in welding and cutting applications, and Air Liquide R&D centers located on each continent, we are able to answer your highest expectations in terms of quality, producticvity, cost efficiency and safety.